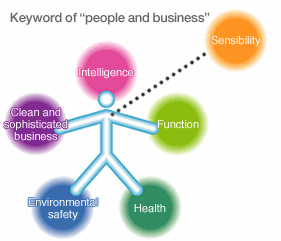 Our challenge is to create a "new oceanic culture".
We hope contribute widely to society
by providing our customers with fine products.
Our company is a society that exists for the happiness of its workers and our fundamental merits stem from their individual efforts.
We are successors to the spirit and skills of the age-old salt-making traditions of Ako. Our motto is "The Customer Comes First" , based on the principle of "people and business". We endeavor to create a functioning, healthy, environmentally safe, clean and sophisticated business.
We also enhance worker education, attaching great importance to wisdom combined with knowledge, fostering creative sensibility and creating a "new oceanic culture" that contributes to society.