Business Section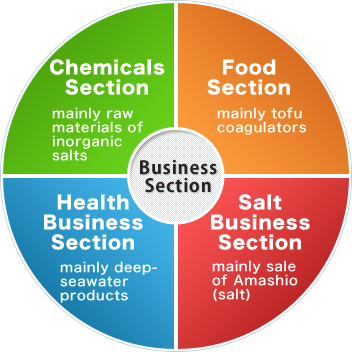 The Sales and Marketing Department of AKO KASEI has four sections as follows.
Owing to progress in high technology, we have entered the IT era, a revolutionary period that has brought a wind of change currently symbolized by the Internet or e-commerce. However, we believe that, regardless of technological progress, information exchange on a person-to-person basis remains the basic principle of "doing business". The mission of our Sales and Marketing Department is to act as reliable advisors to our customers as well as providing them with products and information on a real-time basis.
Each of our employees puts his/her efforts into specifying customers' needs and then offering them the most satisfactory products. Therefore, our basic policy is to "always be ready to respond to change", "always be loyal to basic principles", "always be able to think positively", "always have the ability to go ahead with proposals" and "always give a kind-hearted response". Furthermore, we always aim to act as a leading industrial group and endeavor to develop "long-selling products" rather than "best-selling products".

mainly raw materials of inorganic salts

mainly tofu coagulators

mainly deep-seawater products

mainly sale of Amashio (salt)