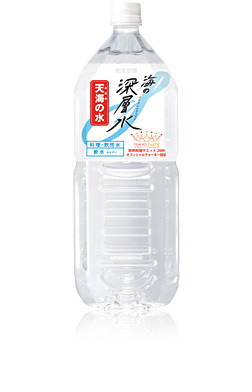 Product Information
Water Hardness = Ca(mg / L) × 2.1 + Mg(mg / L) × 4.5

This product is made from 100% Muroto Deep-Seawater.
We successfully remove more than 99% of the salt and maintain natural mineral balance of Muroto Deep-Seawater. Consequently, mineral balance of this water becomes Mg:Ca:K:Na=3:1:1:1 similar to the mineral balance of human body.
Owing to the low water hardness, this product is well suited for purposes such as cooking and making tea or coffee.
Packaging
2L x 6 bottles / case (Shelf Life:2years)